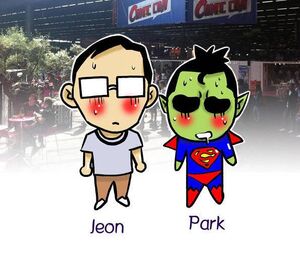 This page is dedicated to the creators of The Breaker and The Breaker: New Waves manhwa.
Park Jin-Hwan (박진환) is manhwa artist who worked with Jeon Guk-jin for The Breaker under the allias Kamero.
Before joining Jeon Guk-jin to collaborate work on the breaker, he previously worked on a series known as "Archlord", which he illustrated and wrote. [1]
Jeon Geuk-Jin (전극진) (April 25, 1968) is the writer of The Breaker and The Breaker: New Waves books which turned into a manhwa.
Jeon was the story writer for "Yeol Hyeol Gang Ho" also know as "Yul Gang" or "Ruler of the Land." [1] He is married and has two children.
Appearances
Edit
The Creators of The Breaker are seen various times through out Parts l and ll of the series.
References
Edit
↑ 1.0 1.1 1.2 The Breaker New Waves Chapter 48.5
↑ The Breaker Chapter 37 (coloured front pages)
↑ The Breaker New Waves Chapter 38
Ad blocker interference detected!
Wikia is a free-to-use site that makes money from advertising. We have a modified experience for viewers using ad blockers

Wikia is not accessible if you've made further modifications. Remove the custom ad blocker rule(s) and the page will load as expected.